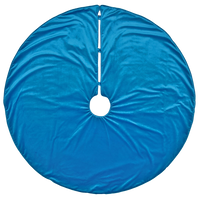 Black and Green Locking Keys Patterned Tree Skirt
Velvet and spice and all things nice!
This tree skirt combines a fun, brightly patterned front side with a beautiful velvet solid colored backing.  Reversible, with a flip of the tree skirt you have an instant new look for your Christmas tree!  The black and green pattern on the front is a fun way to tie in some of the colors of the season, without going overboard.
Dimensions 53" x 1" x 53"
Materials: Cotton, Velvet
Reversible
Black and Green pattern on one side
Solid Blue Velvet on the other side