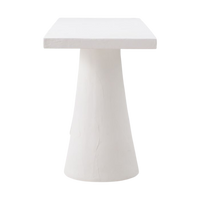 Plaster Desk - Pick up in store only!
The Plaster desk is guaranteed to transform your workspace through its boldness and minimalism. Masterfully crafted from concrete with a faux plaster finish, it is durable and reinvents antiquity in a modern way. This piece will bring a sense of uniqueness to your space like no other!
68.5"W x 22.5"D x 30"H 178.6lbs
Concrete with Faux Plaster Finish
Pick up in store only! We do not ship furniture!