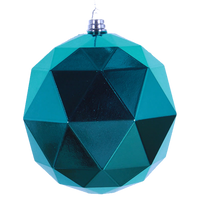 Geometric Ball Ornament
Add a little fancy flair to your Christmas tree this year!
These gorgeous geometric ball ornaments come in a multitude of colors and sizes and are the perfect addition to your holiday decor.  These are a fun change-up from the normal ball ornaments you see every year! The colors match exceptionally with other holiday decor and are great as finishing pieces for your tree.  Each ornament comes ready to hang and be shown off!
Multiple colors
4.75" L x 4.75" W x 4.75" H
6" L x 6" W x 6" H
8" L x 8" W x 8" H
Plastic
Geometric ball