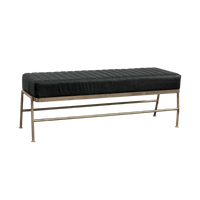 Upholstered Leather and Metal Bench- Pick up in store only!
This metal bench solves the age-old problem of needing more seating in a stylish way. Its distressed metal legs and sleek black leather top make it a chic addition to any modern home!
50"W x 16"D X 17"H
Upholstered Leather & Metal Bench
Black & Brass Finish
Pick up in store only!